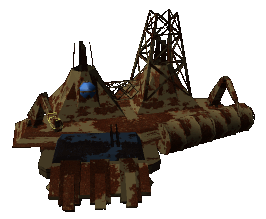 Overview
Edit
Asteroid Mines are the basis of all heavy industry. They consume food, water and energy and produce ore. The produce can then go either to a Smelting Facility or be used directly for building upgrades.
The Asteroid Mine is a low maintenance building that is often needed in economically growing sectors, but can have serious overflowing issues once there is little upgrading going on.
Asteroid mines use FWE to create ore and gemstones. The ore is needed for smelters to operate, to build many equipment types at starbases, and to build many buildings, these are essential for economies. Most asteroid fields will have these mines in them, as well as being surrounded by smelters. Running a large scale mining and smelting operation along a huge asteroid field is a very profitable business, as it takes so much to upgrade buildings and build equipment. They will produce ore and metal, then send it to a trading outpost for people to transport where it is needed.
Asteroid mines are low level buildings
Built on
Edit
Asteroid tiles

Best locations
Edit
Asteroid Mine
Type
Low
Resources Required
15 , 25
Built On
Asteroids
Requirements
None
Production
Edit
| Level | Upkeep | Production |
| --- | --- | --- |
| 1 | 1 1 1 | 9 2 |
| 2 | 1 1 1 | 14 3 |
| 3 | 2 2 2 | 18 4 |
| 4 | 2 2 2 | 23 5 |
| 5 | 3 3 3 | 27 6 |
| 6 | 3 3 3 | 32 7 |