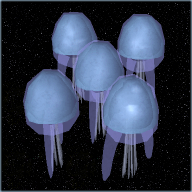 Official Information
Edit
Progeny of the dreaded Medusa Species, Swarmlings pose nearly as great a threat as their matured parents. Though smaller, the poison found within the barbs of their flagella is just as potent, paralyzing their host victim within seconds and leaving them helpless.
Disposition: Predatory
Rarity: Uncommon
Region: Universal, not in Pardus
Cluster
Hull 450
Armor Points Factor
ORG 750 3 x
Shield 120 Regen ?/6
Weapon Damage Type Firerate
Small Tentacles 42 ORG 2
Small Tentacles 42 ORG 2
Small Tentacles 42 ORG 2
XP 800
HA Limit 66
Respawn Location Moving
Unknown Random No
Cloaks No
Retreat Hold Often
Ad blocker interference detected!
Wikia is a free-to-use site that makes money from advertising. We have a modified experience for viewers using ad blockers

Wikia is not accessible if you've made further modifications. Remove the custom ad blocker rule(s) and the page will load as expected.