[[File:Ficon_big.png|thumb|125px
Rank Needed
Serf
Cost
38 500
Weapon Mounts
0
Missile Mounts
3
Armour Points
60
Hull Points
300
Hull Capacity
130
Size
74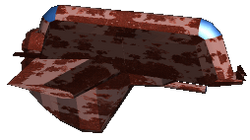 In Game Description
Edit
The Tyrant is the longest serving model in the Empire. The robust build and its body, constructed from cheap heavy metals from Grecein, give it great cargo capacity but also a very high mass. It is the only ship without mountings for laser weapons (this means no asteroid mining!), but its three Missile Mounts can keep unwanted guests at a distance, at least for a short while. The rust on the outer hull are natural in older models, but most are added with an artificial oxidation process, to satisfy the nostalgic feeling of many traders.
Class and Information
Edit
Construction
Edit
1,250 Credits
2 Energy
11 Metal
Required cycles: 5 (15 h)
Construction (Total)
Edit
6,250 Credits
10 Energy
55 Metal
Ad blocker interference detected!
Wikia is a free-to-use site that makes money from advertising. We have a modified experience for viewers using ad blockers

Wikia is not accessible if you've made further modifications. Remove the custom ad blocker rule(s) and the page will load as expected.